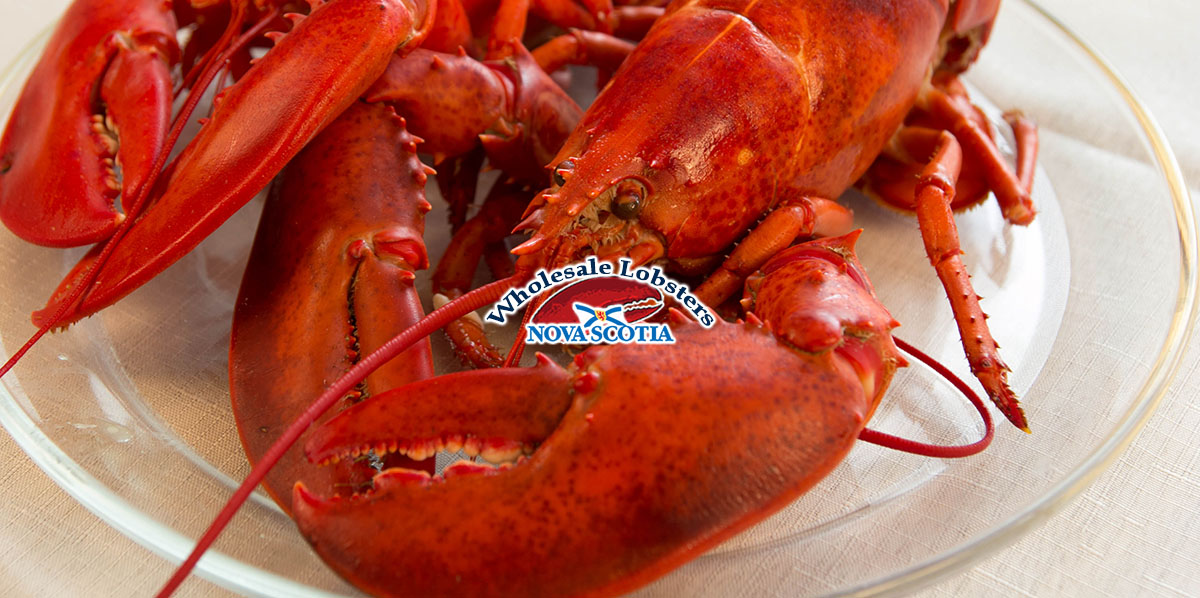 Wholesale Lobster
Live lobster is available year-round from WholesaleLobster.Ca holding pounds. Hard-shelled Canadian Atlantic Lobster as the "King of Seafood". Atlantic Lobster is not only delicious, it is highly versatile and one of the most nutritious sources of protein you can find. Canadian Atlantic Lobster is known by many names including: Atlantic Lobster, American Lobster, Canadian Reds, Northern Lobster and Maine Lobster but no matter what you call it, once you've tasted our lobster you will know why it is King.
Hard shelled versus soft shelled. Since the Atlantic Lobster must moult (shed its shell) in order to grow, it will display a thinner softer shell after it has molted. In Canada, the lobster season is staggered around the summer moulting period and most Canadian Atlantic Lobster are harvested hard-shelled. Many consumers prefer hard-shell lobsters over soft-shell lobsters because of several reasons. Hard-shell lobster contains fifty percent more meat than the same size soft-shell lobster. Hard-shell meat is firmer, while soft-shell meat is softer and tends to have more water. Furthermore, hard-shell lobsters ship better than soft-shell lobsters because they are less likely to crack en route. Cracking a hard-shell Atlantic lobster takes some effort, but the results are worth it!
Contact us to help you source a good, steady supply of succulent Wholesale Atlantic Lobster all year-round.
Our LIVE PREMIUM ATLANTIC LOBSTER and cooked meat:
Is caught wild from the Coastlines of Southwest and Eastern Nova Scotia to the unique Bay of Fundy with the highest tides in the world.
Available all year long due to the abundance of fishing zones within Nova Scotia!
*Has a Hard Shell
*Has a high meat content
*Is sweet and tender
ATLANTIC WHOLESALE LOBSTER GRADING
Chix Size ( 0.88 - 1.25 lbs ) or 400 – 500 grams
Quarters Size ( 1.25 - 1.50 lbs ) or 567 - 680 grams
Halves Size ( 1.50 - 1.75 lbs ) or 680 - 794 grams
Selects Size ( 1.75 - 2.00 lbs ) or 794 - 907 grams
Deuces Size ( 2.00 - 3.00 lbs ) or 907 - 1361 grams
Small Jumbos Size ( 2.98 - 3.97 lbs ) or 1350 – 1800 grams
Medium Jumbos Size ( 3.97 - 5.95 lbs ) or 1800 – 2700 grams
Large Jumbos Size ( 5.95 - 7.94 lbs ) or 2700 – 3600 g +
Shipping and Packaging
Pricing is subject to change based on market conditions
and will be confirmed prior to shipping.
Shipping:
Next day shipping is available to most destinations ONLY within Canada & USA. Your order is delivered next day via FedEx direct to your residence or nearest retail outlet.
Delivery Days: TUESDAY to FRIDAY
PACKAGING:
We package our products with the following: an insulated styro foam box, frozen ice gel packs, and a cardboard box. Our packaging will keep your order protected and temperature controlled for the duration of the shipment. Each lobster we ship is inspected by hand to ensure you receive a strong, healthy, and hard shell product full of meat.
Please fill out and submit the form below. We will respond back with your price quote soon as possible. Important: orders are priced with shipping included.
I agree to the Terms & Conditions
By filling out this price quote form you are agreeing to receive our "Price List" alert emails from East Coast Lobster.
Wholesale Lobster ships world wide and to all major Canadian cities such as Quebec City, Montreal Quebec, Toronto Ontario, Ottawa Ontario, Winnipeg Manitoba, Regina Saskatchewan, Calgary Alberta, Edmonton Alberta, Vancouver and Victoria British Columbia. We also ship to all United States destinations.
The Canadian Lobster is also known as "Boston Lobster" to most of Asia. The North American Lobster scientific name is the Homarus americanus.
Found on the Atlantic coast of North America, mainly from Labrador to New Jersey. It is also known as Atlantic lobster, Canadian lobster, true lobster, northern lobster, Canadian Reds, or Maine lobster.