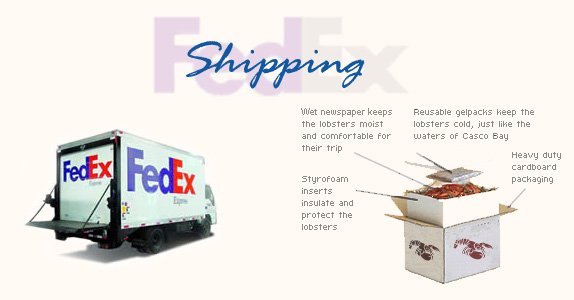 Shipping and Packaging
Pricing is subject to change based on market conditions
and will be confirmed and guaranteed prior to shipping.
Shipping:
Next day shipping is available to most destinations ONLY within Canada & USA. Your order is delivered next day via Purolator Express or Fedex direct to your residence or nearest retail outlet.
Delivery Days: TUESDAYS to FRIDAY
PACKAGING:
We package our products with the following: an insulated styro foam box, frozen ice gel packs, and a cardboard box. Our packaging will keep your order protected and temperature controlled for the duration of the shipment. Each lobster we ship is inspected by hand to ensure you receive a strong, healthy, and hard shell product full of meat.
MINIMUM Shipping Costs:
Prices may vary based on weight and postal code and will be confirmed and guaranteed prior to shipping.
ATLANTIC CANADA (NS, NB, PEI) – $25.00
NEWFOUNDLAND – $45.00
QUEBEC, ONTARIO- $40.00
MANITOBA – $45.00
SASKATCHEWAN, ALBERTA- $60.00
BRITISH COLUMBIA- $65.00
NORTHWEST TERRITORIES AND NUNAVUT – $75.00
                                "UNITED STATES ORDERS"
"SAME DAY SHIPPING" FOR "NEXT DAY DELIVERY" AVAILABLE IF ORDERED BEFORE 1:00pm (EST)EASTERN/BOSTON TIME.
"Shipping" Monday thru Friday only for Tues thru Saturday "delivery" only. Sunday & Monday "deliveries" are not available via Fed Ex overnight deliveries.
SHIPPING CHARGES: Fed Ex Standard overnight delivery shipping charges / plane ride (Tues thru Friday delivery) for example: from 1 lb up to 10 lb's of product is $52.00 THIS TOTAL CAN CHANGE  "overnight" shipping charge ( will "ship" the day prior to your requested "delivery date" via overnight delivery) for proper delivery date receipt. There is a small shipping increase per pound after 10 lb's of product. Upon entering your order, a SHIPPING CHARGE will be calculated for all orders BEFORE COMPLETION for your approval. This will occur prior to requesting your credit card information (all shipping charges are determined by qty and weight of the total items ordered). All food items ship Fed Ex Standard overnight delivery to arrive between the hours of 9am-4:30pm (Tues thru Friday deliveries) and will be "TAGGED OK TO LEAVE AT THE DOOR" to insure your delivery arrives on time as you've requested.
ALL "SATURDAY DELIVERY REQUESTS" WILL INCUR AN ADDITIONAL $25. DELIVERY CHARGE TO THE REGULAR OVERNIGHT DELIVERY CHARGE). No Saturday deliveries will ship unless we have your "prior" authorization.
Please complete form on the front page or wholesale pricing section to contact us by email. We will respond by email as soon as possible.
Guarantee
All express-mail shipping costs are included in your purchase price.
Your live Fresh Lobsters are shipped overnight to your home or place of business via Federal Express,UPS or Purolator. These couriers will deliver your lobsters to your door before the end of the delivery day.
WholesaleLobster.Ca guarantees that your Fresh Lobsters are alive when they are delivered to your home or business.
Next-Day Delivery
Federal Express, UPS, Purolator provides extraordinarily reliable service to WholesaleLobster.Ca and our customers. Courier drivers and depot workers go to great lengths to deliver our live Fresh Lobsters to our customers overnight. We have scores of testimonials to that effect. It's quite mind-boggling that they are able to do so with such consistency.
The one exception to our express-mail over-night guarantee has to do with extreme weather conditions, sometimes called "Acts of God." If an ice storm grounds the courier air planes, or impassable snow drifts block the courier delivery trucks, or a flood closes the highway, or another such weather condition occurs, you may not get your lobsters on time.
When the courier delivery person does get to your door, someone "HAS TO BE" present to receive the package. Typically, if no one is home, the package will "NOT" be left unattended. If you are unable to be at home to receive your live Lobsters, please have your order sent to your place of business or to a friend's address. Or, you may want to arrange to pick up your live Succulent Lobsters at your local courier depot as a last resort. (You must call the courier in advance to make arrangements to do so.)
Shipment Tracking
The morning before the day you tell us to deliver live fresh lobsters to your "ship-to" address you will receive an eMail notice from us that will include your courier tracking number. Sometime in the afternoon of that day, the tracking process will start. You will see your package is on its way. As the lobsters advance to your "ship-to" address, you will be able to follow their progress. If you are shipping live fresh lobsters to a third party, we highly recommend that you notify the lucky recipient that the package is on its way.
The day you place your order, you will receive our WholesaleLobster.Ca Order Confirmation and Thank You eMail. But, your tracking number is not created until the morning before your delivery date.
Please take care to include your correct eMail address when you place your order. Also, once again, if you are sending live Fresh Lobsters to a third party, please notify them that the package is on is way and give them the courier tracking number so they too can track their package.
Problems with your order?
WholesaleLobster.Ca guarantees the quality of its lobsters on the scheduled day of delivery. All claims must be made on the day of delivery in writing by fax signed. No claims are honored if not made on day of delivery.
If you have any questions, e-mail us.  Business hours are 24 hours, Monday through Friday.  Typically, we are able to respond to questions even after our normal business hours, so don' t hesitate to leave a voice message. Our service department is closed on all major holidays.
Insulated Packaging
Experience has taught us that live Fresh Lobsters travel best when packed securely in heavy-duty Styrofoam cartons, covered with wet packing material, together with gel ice packs, before they are sent off to you. So, that's what we do. We also use a more insulated and sturdy box known as a "cloud box". These boxes are very similar to wine boxes including dividers to seperate the lobsters in a fashion that they will not touch each other when shipped. We use these especially in the warmer summer months along with extra ice packs to ensure survival and top quality.
30LB TRUEFOAM BOTTLE LOBSTER BOX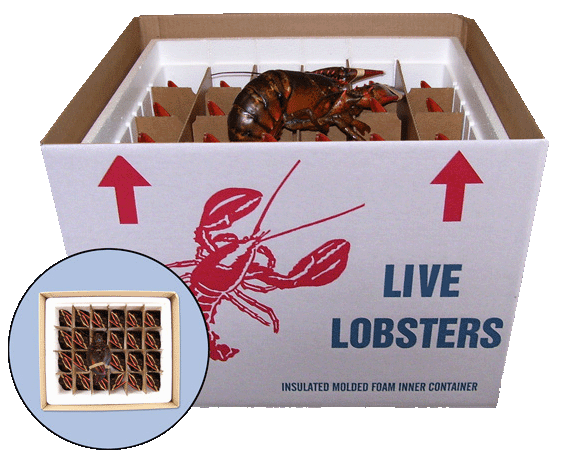 Lobster Packaging
Quality control is essential when transporting our product to market
Live Lobster, Clams, Sea Urchins and Mussels
Length

Width

Height

Inside

17 1/4″ (437 mm)

12″ (302 mm)

5 1/8″ (132 mm)

Outside

18 3/4″ (475 mm)

13 3/8″ (340 mm)

6 3/4″ (170 mm)

Cardboard

19 1/8″ (485 mm)

13 3/4″ (350 mm)

7 1/2″ (190 mm)

Capacity: 17.5 litres/.618 Cubic Feet  10 to 12 lbs Live Lobster LD3 Container
#2 Styropack
Length

Width

Height

Inside

17 1/4″ (437 mm)

12″ (302 mm)

7″ (178 mm)

Outside

18 3/4″ (475 mm)

13 3/8″ (340 mm)

8 1/2″ (216 mm)

Cardboard

19 1/8″ (485 mm)

13 3/4″ (350 mm)

9 1/4″ (235 mm)

Capacity: 21.5 litres/.76 Cubic Feet  15 lbs Live Lobster LD3 Container
#3 Styropack
Length

Width

Height

Inside

17 1/4″ (437 mm)

12″ (302 mm)

9″ (227 mm)

Outside

18 3/4″ (475 mm)

13 3/8″ (340 mm)

10 3/8″ (265 mm)

Cardboard

19 1/8″ (485 mm)

13 3/4″ (350 mm)

11 1/4″ (285 mm)

Capacity: 30 litres/1.06 Cubic Feet  25 lbs Live Lobster LD3 Container
#4 Styropack
Length

Width

Height

Inside

17 1/4″ (437 mm)

12″ (302 mm)

12″ (302 mm)

Outside

18 3/4″ (475 mm)

13 3/8″ (340 mm)

13 3/8″ (340 mm)

Cardboard

19 1/8″ (485 mm)

13 3/4″ (350 mm)

14 1/4″ (360 mm)

Capacity: 40 litres/1.41 Cubic Feet  30 lbs Live Lobster  LD3 Container
#5 Styropack
Length

Width

Height

Inside

23 1/2″ (597 mm)

16″ (405 mm)

6 7/8″ (175 mm)

Outside

25″ (635 mm)

17 1/2″ (443 mm)

8 3/8″ (213 mm)

Cardboard

25 3/4″ (645 mm)

17 7/8″ (453 mm)

9 1/8″ (233 mm)

Capacity: 42 litres/1.48 Cubic Feet  30 lbs Live Lobster LD3 Container
#30 Styropack
Length

Width

Height

Inside

25 5/16″ (542 mm)

13 1/4″ (337 mm)

10 1/2″ (267 mm)

Outside

23 13/16″ (610 mm)

15 15/16″ (405 mm)

12 1/2″ (317 mm)

Capacity: 48.7 litres/1.72 Cubic Feet  30 – 37 Live Lobsters
LOB Box Styro
Length

Width

Height

Inside

16-15/16″ (430 mm)

14″  (356 mm)

12-7/8″ (327 mm)

Outside

19-9/16″ (497 mm)

16-1/2″ (419 mm)

15-3/16″ (386 mm)

Capacity: Waxed Cardboard Dividers  Set-Up for 9, 12, 16, 20, 24 or 30 slot partitions for Live Lobsters
Volume: 1.77 Cubic Feet